A Wonderful Project!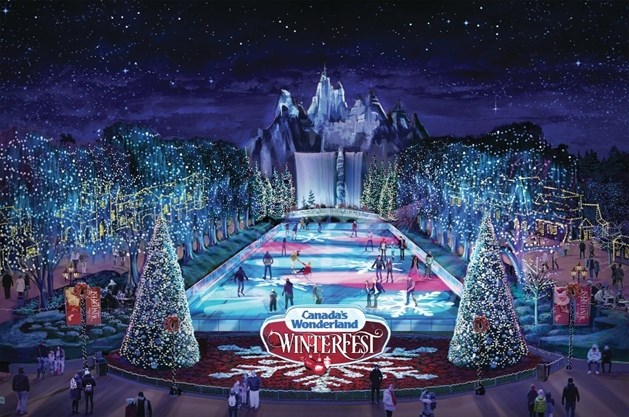 A conceptual drawing of the ice rink Center Ice Rinks will be creating for Canada's Wonderland's WinterFest.
Caledon's Cathy and Emir Ishmael are about to make a backyard rink like no other, and they should have a few thousand reviews of their work.
The Ishmaels run Center Ice Rinks, a company with offices in Mississauga that creates roll out backyard rinks, inclusive of refrigeration systems that can keep the rink in pristine working condition into positive temperatures. After their clients are done with the rink, they roll it away — much like the rinks used in multi-use professional stadiums — store it in their warehouse and roll it back out for them the next season.
It's a unique, and functional way to ensure you can enjoy one of Canada's favourite pastimes, be it skating or hockey, in your own backyard, and get your backyard back after the skating season is concluded.
And now, the company has been contracted to provide Canada's Wonderland's first WinterFest with a massive skating surface at the base of the famous mountain that is the centre of the amusement park.
"We're turning the fountain at the base of the mountain into an ice rink," Cathy explained. "It's a big project, the average NHL size rink is 80 feet by 200 feet and this rink is going to be 80 feet by 240 feet, but we're really excited they contacted us."
The Ishmael's began Center Ice in 2007, Cathy explained. They are a small family-owned business, she said, with her husband and herself still very hands-on.
"He's the frontman and handles all the operations, the rink building and maintaining. I'm more the back office person doing the marketing, administration, payroll, you know, the fun stuff."
They're a seasonal operation, she said, but have contribute their skills to the odd ball hockey tournament in the summer months.
"We've done some basement rinks as well, but the meat and potatoes of our business is the portable refrigeration system. It sees us start up in the beginning of November and takes us, depending on the season, all the way into April and May."
The real specialty is their roll on and roll off rinks, which Cathy said can be used in a large yard, over the top of in-ground pools, tennis courts and more.
A spokesperson for Canada's Wonderland said the park is being transformed into a magical, winter wonderland for WinterFest — an all-new, immersive holiday experience taking place on select dates from Nov. 22 to Dec. 31.
The event will feature ice-skating on Snow Flake Lake, more than a dozen live shows and holiday entertainment, millions of spectacular lights and hundreds of Christmas trees throughout the park, including two 15-metre Christmas trees on International Street. There will be a nightly tree-lighting ceremony, savoury and sweet holiday food, hands-on family activities like cookie decorating with Mrs. Claus, pics with St. Nick, crafts and interactions with park characters like Jack Frost, the Sugar Plum Fairy, the Ice Prince and Ice Princess.
For more on WinterFest, visit the park's website, here.
https://www.caledonenterprise.com/news-story/9641160-ice-ice-baby-caledon-rink-specialist-to-make-canada-s-wonderland-winterfest-skating-rink/